Nest #35 was laid just over the high tide line and was relocated for safety.
Crawl Width: 94cm/37″
Relocated Eggs: 117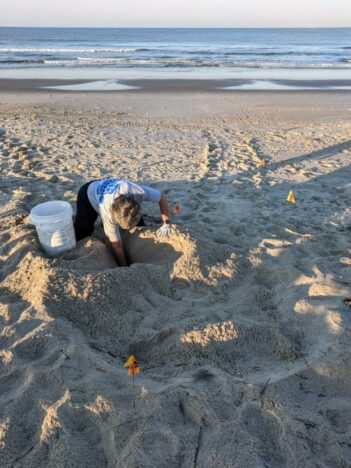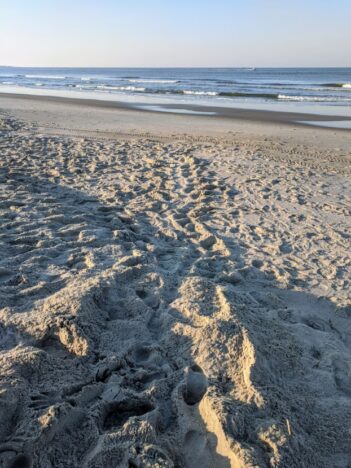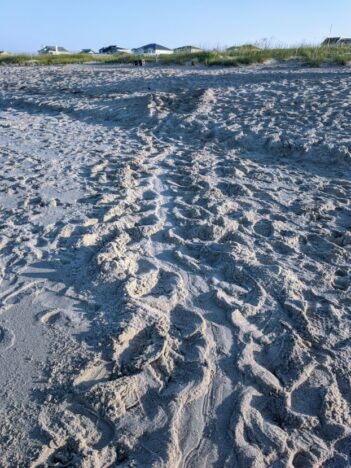 Matthew Godfrey, our State Sea Turtle Biologist, came for a survey ride down our beach.  We were able to show him our current nests, ask about problematic erosion and flood areas, etc.  So far, he thinks we've made good decisions and understands our concerns in the problematic areas.
He is also very excited about our Kemp's Nest and will be getting that DNA to the lab next week!

He let us know that they have Duke Interns working on revising the Sea Turtle Handbook.  He's hoping to have some of the revised information out by the time hatching begins. 
He did answer questions for us:
*Inventories should be conducted at least 72 hours after a good emergence.  This could be early morning or late evening when the sand is cool and the sky is not bright.
*Red Lights should be used only in emergencies to check for wayward hatchlings after an emergence has made it to the water.  If you are leaving for the night and it is truly VERY DARK (no Moon), you may shine the red light off to the side to check for activity.  We will not be doing this for visitor's curiosity.  Only when leaving for the night.
*Green Placement will be uniform this year.  Please see the attached photo and excuse my drawing!  The green should continue straight down from the front poles down to the wet sand and then fan out at the end (no indenting).  Visitors need to stay behind your roped off area.  Visitors and Volunteers should not be in the wet sand or water.  Please keep all behind the fanned out area.
Look for us in the State Port Pilot either next week or the week after.  Lee Hinnant interviewed us, Matthew and our Merchandising Team!