Thursday Night:
Nest #50 Inventory

Live Hatchlings-1
Dead Hatchlings-0
Pipped Eggs-0
Unhatched Eggs-5
Hatched Egg Shells-120 + a handful of small pieces

Nest #43 boiled at 8:40 with 130 hatchlings going to the water within 12 minutes!
While greening Nesting Site #1 we noticed a small hole very close to the center of the area. We called in Team 0 for another nest to sit!
Nest #44 had 2 more hatchlings emerge while Team 9 was sitting at Nest #47 (which had a small divot). 2 sets of tracks were seen in the runway and all the way to the high tide line!
Nest #49 boiled big and fast at 11:15 right after visitors called for help! Thanks to Turtle Ambassadors Sam and Mike (and others) for their call and help! Also thanks to other CBTW members Andrea, Okey, Barb and Tom who arrived within minutes of being called! 79 hatchlings made it to the water! It was Day 51.
Friday Morning:
Nest #48 had one hatchling track and a crab hole.
Nests #38, #44, #43 had crab holes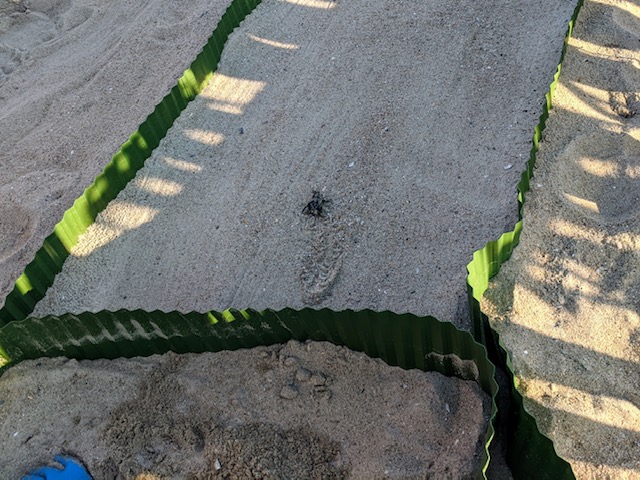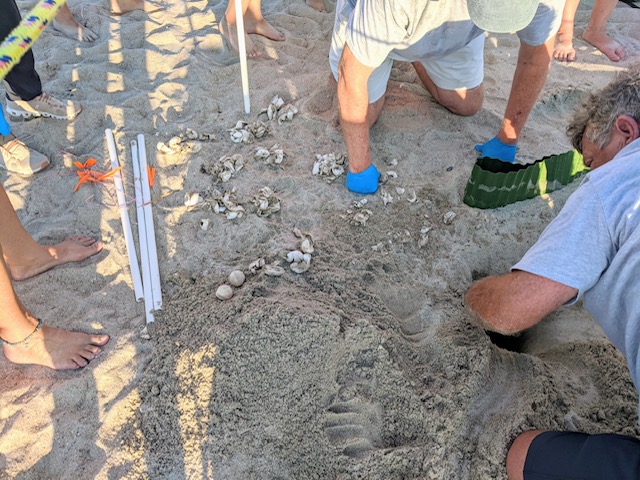 This conservation work for protected sea turtles on Caswell Beach is authorized by the NC Wildlife Resources Commission (ES Permit 21ST03)