It was a busy night for turtle babies!
Nest #25 boiled with Team 9 present between 9:30-9:44. There were 127 hatchlings in under 15 minutes! It was low tide and a long walk, but they did it! A few more emerged over night.
Nest #15 boiled at 10:00 with 119 hatchlings. Unfortunately, about half of them were disoriented due to bright lights. The team worked hard to see that all babies made it to the ocean! Again, a few more emerged over night.
Nest #14 boiled with Team 6 present and MANY Turtle Ambassadors! 127 hatchlings went to the ocean with 2 being disoriented by a street light. The visitors were thrilled to see the emergence and hear all the information Team 6 had to share!
Nest #17 and #23 also emerged during the night!
Our Morning Patrol filled in a large hole. It wasn't very wide, but was almost as deep as a rake! Very dangerous!
It appears that our Mamas may have gone back out to sea. We haven't had a new nest or crawl in 5 days.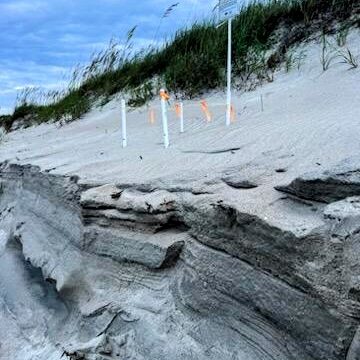 **This conservation work for protected sea turtles on Caswell Beach is authorized by the NC Wildlife Resources Commission (ES Permit 23ST03).

Want to help? Please consider donating to our efforts to protect sea turtles at Caswell Beach Turtle Watch Donations.